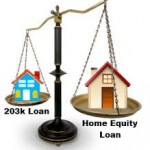 Financial Solutions to Meet Your Needs
Once you've built up some equity in your home, we can help you use it effectively. Whether you want to increase the value of your home, make good investments or improve your lifestyle, now or later in life.
A home equity loan is a type of second mortgage. Your "first" mortgage is the one you used to purchase your home, but you can add other loans to borrow against the property if you have built up equity. Lenders for Growth can advice you.
Home Equity Loan for Debit Consolidation
By paying down multiple, high-interest credit cards, you can reduce your monthly payments by as much as 2/3rds.
Home Equity Loan for Cash Financing 
Home equity loan can get you that much needed cash money. for renovation on your house or to start your own business or down payment for investment property.
Home Equity Loan for Seniors Reverse Mortgage
If you're aged 65 or over and own your home, you could use the home equity to make your retirement more comfortable. Equity Unlock for Seniors allows you to access money without changing your lifestyle or selling your current home.
Refinancing options to help you save
Switch and save

If you're looking for a better deal on your home loan, consider talking to Lenders for Growth. We'll take the time to understand your financial needs and take you through your options. Whether you require a simple, low fee home loan or a more complex loan that lets you take advantage of additional investment opportunities, we can help.

LENDERS FOR GROWTH LTD  [LFG]:   (FSCO#12368) a Toronto based mortgage brokerage company doing conventional bank approved mortgages & bank alternative financing aka. private lenders.

ROSMOUNT CAPITAL FUNDING INC  [RCF]:   (FSCO#12397) a private lender.  specializing in construction loans, 1st /2nd home equity bad credit financing, short term bridge loans.

 Bad Credit Loans - Get one Today!
Given many varieties of home equity products, it can be difficult to decide which option is best, so the thing to do is contacting accredited brokers like (Lenders for Growth / Rosmount Capital Funding) who can help you navigate these complicated waters.
They can help small business owners or people with debt consolidation borrowing against the value of their homes.
Let Lenders for Growth help you find
the best Home Equity Loan rates and terms
Rates are not the only factor when shopping for a home equity loan. Home Owner has numerous ways to access the equity in his/her home –

a home equity line of credit (HELOC) -if you don't need a lump sum right away
a home equity second mortgages -For a major expense or to consolidate multiple debts
The kind of home equity loan you use depends on your circumstances. Talk to Lenders for Growth – Hannif Highclass @ 416.444.4252 and he will guide and advice you.
---

REMEMBER:
Please go to YOUR Mortgage Broker if you qualify for Bank Loans!
Come to us ONLY if you know you cannot get Bank financing or been rejected
For Your Hard to get Loans & Mortgage Needs
LENDERS FOR GROWTH LTD. and ROSMOUNT CAPITAL FUNDING INC.
our in-house mortgage brokerage and private lenders (FSCO Licence # 12368 & 12369) can help you with all your financing needs. Don't take NO for an answer. When the banks say no – Let us look into your Financial needs. We have OUR OWN PERSONAL FUNDS and can give you an approval up to 2.5 Million dollars within 24 Hrs!
We do all type of Mortgages and Loans, but non-bank private only and most important from our very own PRIVATE FUNDING.
GO TO YOUR MORTGAGE BROKER DIRECT IF YOU QUALIFY FOR BANK FINANCING.
or call us and we will refer you to fully qualified experienced mortgage professional in your area.
Types of Loans
Call: Hannif Highclass @ 416.444.4252
http://funds2go.info
When The Bank Says "NO" Consider Bank Alternative Funding

Get LENDERS FOR GROWTH In-House Funding

For Home Equity 1st /2nd. Mortgage,

Construction Loan, Line of Credits, Debit Consolidation

"JUST DO IT!

THIS IS YOUR GATEWAY

I DID MY PART

NOW IT'S YOUR TURN"

What are you waiting for!

Call: Hannif Highclass @ 416-444-4252
Call: Hannif Highclass @ 416.444.4252
http://funds2go.info